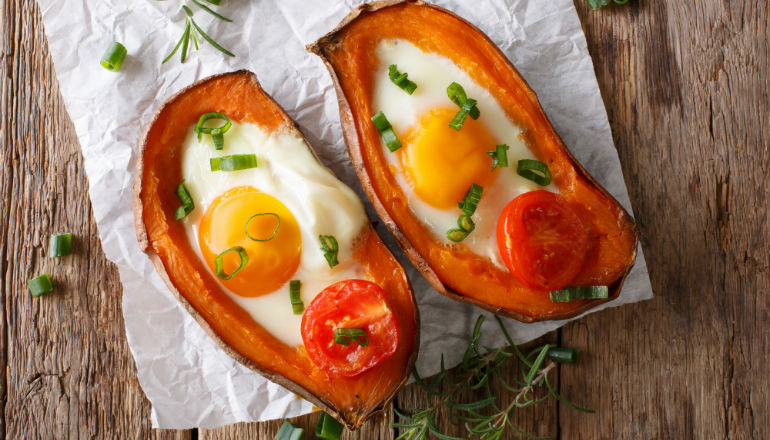 Reading Time:
3
minutes
When it comes to healthy eating, breakfast is often one of the most challenging meals to get right (and enjoy). Why?
For one thing, most of us are usually half-way out the door by the time we even remember to eat in the first place. As a result, chowing down on a quick bowl of cereal or grabbing a granola bar can become the norm.
Furthermore, it's easy to be tired and crabby in the morning, which makes taking the time to prepare a healthy breakfast more of a trial. Kids are running around, the dog needs out, you forgot to iron your shirt, and you're already getting work emails. Who wants to whip up "paleo eggs benedict" at a time like this?
Fortunately, a sweet spot can be found when it comes to succeeding with breakfast and making it healthy. There are two steps: planning ahead and great recipes. As far as the planning goes:
Ensure you're stocked with the necessary ingredients for healthy breakfasts (you'll know what these are once you pick your recipes).
Consider preparing the components of your morning meals ahead of time so they're ready-to-go each morning.
Experiment with waking up early enough to sit down and enjoy your food.
Because, make no mistake — breakfast is important.
A recent study found that men who regularly skipped breakfast had a 27% higher risk of heart disease and heart attack than men who regularly consumed breakfast. Researchers link this correlation to the fact many non-breakfast eaters become hungry early in the day and make poor snack and meal decisions as a result. Breakfast also supplies you with much-needed energy after a night of fasting (as in: "break…fast.")
It's simpler than you may think start eating a healthy breakfast on a regular basis — even if you're not used to it. Below, we're sharing nineteen Whole Life Challenge compliant breakfasts. Recipes are organized into three categories: Egg-Based Breakfasts, Non-Egg Breakfasts, and Breakfast Treats (these may contain eggs as ingredients but aren't egg-centric).
Take a look at these options, and find a few that seem doable and appetizing to your palate. Give them a try, and get started creating a new and healthy morning routine for yourself.
The 19 Best Whole Life Challenge Compliant Breakfasts
Egg-Based Breakfasts:
Non-Egg Breakfasts

Breakfast Treats
These breakfasts should be approached more as "treats" than daily go-to recipes. They contain ingredients that should only be consumed in moderation and not regularly. Consider these weekend or holiday specials, rather than weekday morning meals. (P.S. There are eggs in the ingredients of these recipes, but they are not really "egg-centric" breakfasts.)