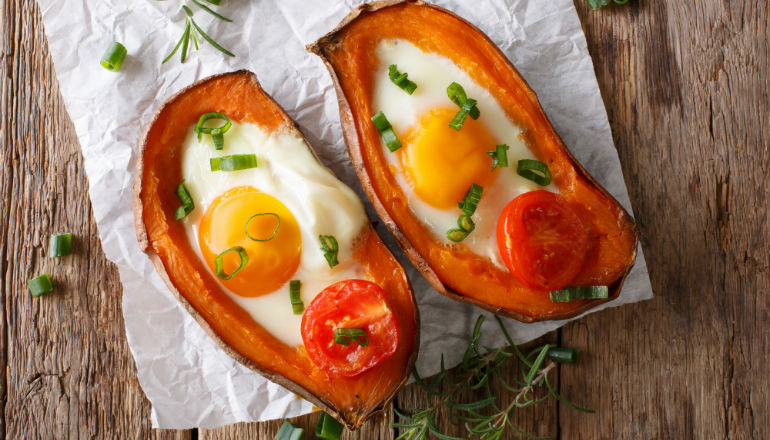 Reading Time:
3
minutes
I often spend Sunday afternoons preparing make-ahead meals and snacks. I find that having delicious options on hand makes it easier to make healthy choices throughout the week, not to mention it saves me time and money.
During one of these recent occasions, I came up with the idea for this healthy breakfast recipe: egg and sweet potato cups. The version I made contains just three wholesome foods that go gloriously well together: eggs, avocado, and sweet potato. Also known as a high-quality protein, a healthy fat, and a dense carbohydrate — an excellent and nutritious breakfast trifecta. But you can swap the avocado for anything you like (for example, the cherry tomatoes, as pictured above, versus the avocado pictured below).
And while I baked these in ramekins, you can also just bake them right in the potato! That makes for an even easier breakfast since there are no dishes left behind. If you do it this way, just slice your (already roasted but still firm) potatoes in half, form a "dish" out of the meat that you can break your eggs into, top with the veggie of your choice, and line up your potatoes on a baking tray.
It's surprising how sometimes it's the recipes with the fewest ingredients that are the most delicious and satisfying. And believe it or not, you can make extra of these egg and avocado sweet potato cups, freeze them, and have a quick breakfast ready to go. Give this a try and see for yourself.
Egg and Sweet Potato Cups
Ingredients
Half golden sweet potato

boiled or roasted (you can use other types of potato, but golden or orange sweet potatoes are my favorite)

1

medium to large egg

3

slices

avocado

or a different vegetable of your choice
Instructions
Preheat oven to 350 degrees Fahrenheit.


Lightly grease a ramekin with a little coconut oil. Press the sweet potato flesh into the bottom and sides of the ramekin and make sure there are no open gaps.

If you bake right in the potato, just slice each potato in half and mash the flesh down to create a "bowl." You may want to use slightly under cooked potatoes if you do it this way.


Break the egg into the ramekin or into the sweet potato, then sprinkle a little salt and pepper on top.

Top with the avocado slices or the vegetable of your choice.


Bake for 20 to 25 minutes until it's obvious the egg is cooked all the way through (you can tell by the egg white — it should no longer be clear and liquid-like).
Recipe Notes
Serve with a little hot sauce if you like a little heat, or enjoy it as is.
These freeze well, so you can make several at a time and then take them out of the freezer as needed. Allow them to slowly defrost overnight in the refrigerator, then pop them in the microwave in the morning for a fast and delicious breakfast.