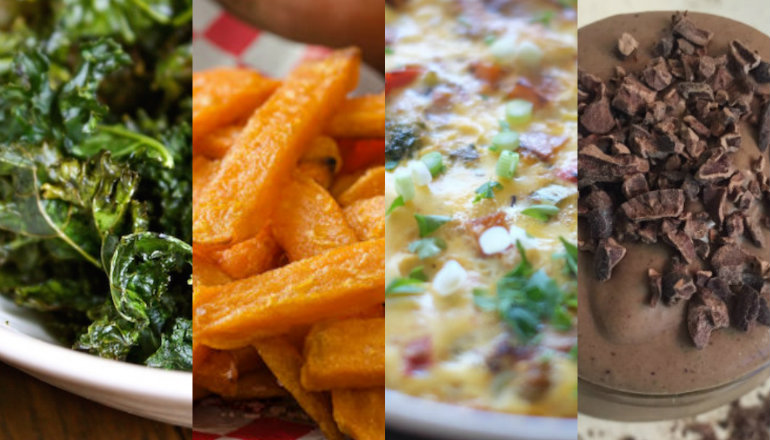 Reading Time:
4
minutes
Did you know we have a large archive of recipes? No need to sort through them all right now (though you may want to at some point), as we've picked out twelve of our most popular recipes to help you get from the beginning to the end of each day in healthy, Whole Life Challenge style.
P.S. While you're at it, download our brand-new recipe book to get every single recipe we published in 2017 completely for free:
Breakfast Recipes
Easy and Versatile Breakfast Frittata – Breakfast doesn't have to be boring or complicated. This versatile recipe from Lianne Low is a great way to use up the random ingredients in your fridge, is easy to prepare, and makes for great leftovers.
Paleo Breakfast Sandwich Biscuits –  Let's face it, many of us really miss bread. Wouldn't it be nice to have a hearty breakfast sandwich from time to time? Thanks to this recipe, you can and it's both paleo and Whole Life Challenge compliant!
Spicy But Simple: Moroccan Tuna Veggie Scramble – Holli Lawler has done something amazing with canned tuna, frozen veggies, and eggs. You know, that stuff you have in your house when you're out of everything else. This makes for a great breakfast, but could serve as a quick post-workout dinner, as well.
Lunch and Dinner Recipes
Crispy Lemon Pepper Chicken Drumsticks – Borne of the need for a game-time snack and courtesy of Jon Gilson, these drumsticks are satisfying, tasty, and tick all the right boxes: a little bit of heat, crispy on the outside, juicy on the inside, and a great citrus finish.
The 50/50 Bacon and Beef Burger – Jon Gilson hits it out of the park again with his healthier take on the infamous Slater's burger.
Healthy Tasty Simple: Orange Chicken Quinoa Salad – Looking for something a little lighter, but not the same boring salad? This salad from Holli Lawler incorporates fruit, a healthy grain, and quality protein.
Sweet Potato Bacon Mash – What's not to love about those four words? We can all thank Sophia Drysdale for this easy but incredibly satisfying side dish that will work with just about any meal.
Oven Baked Sweet Potato Fries – In case mashed potatoes isn't your thing, there's always oven-baked fries. Whole Life Challenge co-founder Michael Stanwyck shares his favorite recipe (and you know you want to eat these with that 50/50 burger).
Snack Recipes
Crispy Chickpeas  – Who knew the little chickpea could be so easily turned into something so fabulous? My new movie-night snack, without any of those post-popcorn-binge tummy grumbles.
Kale Chips – We swear, these really do feel like snack food when you eat them. Even if you "don't like kale," you should try this just once to see. One of the best ways to snack and still stay on track toward your nutrition and weight-loss goals.
Dessert Recipes
Quick and Easy Matcha Cocoa Bars – Sometimes you just have to get your cocoa on. So why not include a little healthy dusting of green tea powder? I know, sounds a little crazy, but it tastes great, is high in antidoxidants, and also known to boost your metabolism.
2 Cacao Smoothies to Soothe Your Cravings – Sometimes I like to make a meal out of a milkshake, and that ceases to be such a bad idea when my "milkshake" is actually a smoothie full of healthy greens, coconut milk, and cacao. Check out this simple, but strangely satisfying concoctions from V Capaldi.