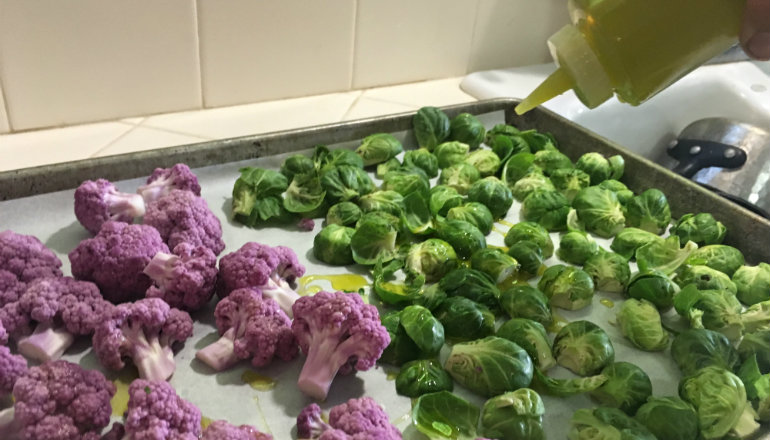 Reading Time:
4
minutes
I call this an "un-recipe" because really it's a guide to roasting vegetables more than it's a single recipe. If you get good at this technique, you can apply it to all kinds of vegetables. Keep reading for the easiest and most successful roasted vegetables you've ever made.
An Important Distinction Before We Begin
For our purposes we are going to break vegetables up into two groups:
Group 1 – With Skin: Winter squash, potatoes, sweet potatoes, carrots, parsnips, beets, onions, garlic, etc. Mostly, if it grows underground it'll fall in this group. That's not always true, but you get the picture. This group takes more time to cook, about 45 minutes at 425 degrees.
Group 2 – Without Skin: Broccoli, cauliflower, Brussels sprouts, mushrooms. If it grows above ground, it probably falls into this group. This group takes less time to cook, about 25 minutes at 425 degrees.
How to Roast Vegetables the Quick and Easy Way
Ingredients
All kinds of vegetables

use a single vegetable or a combination

Olive oil

Salt and pepper
Instructions
Set your oven to 425 degrees (I like to wait at least 10 minutes after my "preheat" alarm goes off, just to make sure we're actually there).

Prepare your vegetables by cutting them all into roughly equal-sized pieces. Cuts are good because they create more surface area, and therefore more delicious roasted goodness

Line your trays with parchment paper and arrange the vegetables in a single layer on two separate trays. Group 1 on one tray and Group 2 on the other. Give the pieces some space. They shouldn't be touching much.

Drizzle all the vegetables generously with olive oil and season well with salt.

Put the Group 1 tray into the oven and roast at 20 minutes.

Add the Group 2 tray to the oven and roast everything for an additional 25 minutes.

Remove the veggies from the oven, mix, and serve.
Recipe Notes
If you want more even browning, flip the veggies halfway through their cooking cycle. When serving, you can drizzle with more olive oil, adjust salt, or add a squeeze of lemon juice or some chopped herbs. It's up to you!
How to Roast Vegetables: Common Problems
If you've ever wondered why roasted vegetables don't turn out the way you want, here are some tips to follow:
Oven is not hot enough. A lot of ovens are not calibrated anymore. A simple thermometer inside your oven will help you determine how correct your temperature actually is and you then can adjust appropriately.
Wrong vegetables mixed together. Mixing the wrong ones will get you spotty cooking, burnt on some or undercooked on others. Some vegetables might not play well with these groups. Summer squash, like zucchini, have a lot of water to start with and can be tough to brown without direct pan contact. Others, like asparagus, might be too thin to fit in either of these groups.
Too crowded. Your vegetables need some space! By piling vegetables together or cramming them tight, you can end up with cooler temperature on the surface of the vegetables and steam, the enemy of that dark caramel deliciousness you're looking for.
Not enough seasoning. Salt is important and not all salt is the same. A good type for roasting and cooking in general is kosher salt. It's not as salty as table salt or sea salts and can be more forgiving in the case of accidental over-salting. My favorite is Diamond Kosher. Morton's is also good, but it's denser and saltier for equal quantities.