Reading Time:
2
minutes
How many times have you reached two o'clock in the afternoon, found yourself flagging, and automatically reached for something sugary to pick up your energy? It's a habit and it's a pretty bad one. Why? Because it's a vicious cycle.
When you fuel with sugar, your body is working all the time to stay in balance. You use insulin to push and pull sugar in and out of your bloodstream. The more sugar you eat, the more insulin you release. The more insulin you release, the more you "lock" sugar away. As long as you keep feeding your body sugar, your body keeps up its insulin levels.
The bad news about this is that with insulin circulating, your "locked away" sugars can't get released for energy. Result? You have to eat more sugar. And the cycle begins again. Are you starting to see the big picture here? Fueling with sugar means you're held captive by sugar. Mid-afternoon pick-me-ups end up becoming late-afternoon crashes.
The easy solution is to start limiting the amount of sugar you take in. The less you eat, the easier it is for your body to do its job. If you need something sweet, reach for something naturally sweet, like these blueberry coconut muffins.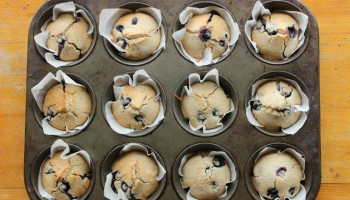 Blueberry Coconut Muffins
If you need something sweet, reach for something naturally sweet, like these blueberry coconut muffins.
Ingredients
1

cup

coconut flour

3/4

teaspoon

salt

1/2

teaspoon

baking soda

6

large eggs

1/2

cup

melted coconut oil

2

teaspoons

vanilla extract

1

cup

fresh or thawed frozen blueberries
Instructions
Preheat oven to 350 degrees Fahrenheit and grease a 12-cup muffin tin.

In a mixing bowl, whisk together the coconut flour, salt, and baking soda.

In a smaller bowl, beat together with fork the eggs, coconut oil, and vanilla.

Add the liquid ingredients to the dry ingredients and mix with a hand mixer on medium speed for about one minute or until well combined.

Stir in the blueberries.

Spoon the batter evenly into the muffin cups.

Bake for 20-25 minutes until a toothpick inserted in center of a muffin comes out clean (unless it hits a blueberry).

Let the muffins cool in the pan for about 10 minutes, then transfer to a wire rack to cool completely.