Reading Time:
3
minutes
I'm having a hard time writing this recipe, because I keep drooling on the keyboard. See, I made this cast iron ribeye steak for lunch today, and looking at the pictures is triggering a (rather unsightly and definitely unexpected) Pavlovian reflex.
I apologize for the mess. Still, I'll carry on for your sake, as you're going to want to make this steak ASAP. It's that good.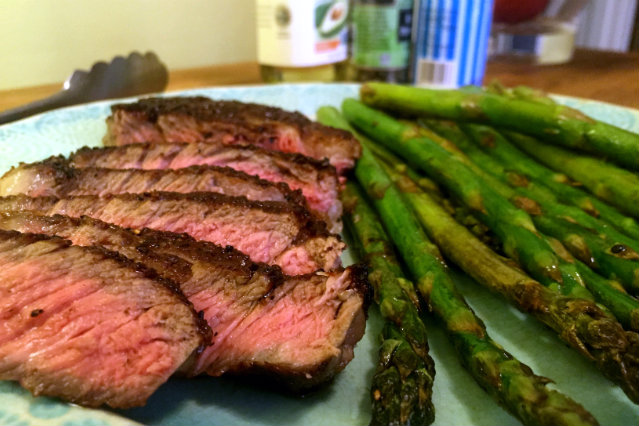 Two special things you will need for this cast iron ribeye steak recipe:
Why avocado oil? Avocado oil has a smoke point of 520 degrees, and as such, is the only oil high in omega-3s that will stand up to the searing in this recipe. Healthy oils with a lower smoke point, such as extra virgin olive oil (320 degrees) and coconut oil (350 degrees) would oxidize at these temperatures (and smoke up your kitchen).
(An Epic) Cast Iron Ribeye Steak Recipe
This simple recipe will surprise you with it's flavor, and leave you wanting to make it again and again.

Ingredients
16

oz

boneless ribeye steak

Salt

Pepper

Avocado oil

Asparagus
Instructions
Preparation:
Put an empty cast iron pan in the oven, and pre-heat it to 500 degrees. The idea is to get the pan really, really hot (and this will help).

Sprinkle your steak with a generous portion of salt and pepper on both sides.

Rub a bit of avocado oil over the salt and pepper, coating the steak until it is shiny.
Cooking the Ribeye:
Once the oven (and skillet) reach 500 degrees, remove the skillet from the oven. Don't turn the oven off.

Put the skillet on high heat on the stovetop.

Add a few tablespoons of avocado oil to the skillet.

Sear the ribeye for 60 seconds, flip, and sear for an additional 60 seconds. This will form a beautiful (and very tasty) crust.

Immediately place the entire pan, ribeye and all, back in the 500-degree oven for 2 minutes. If the ribeye is thicker than 1", flip and roast for an additional 2 minutes.

Remove the ribeye from the skillet and put it on a plate to "rest" for 3-4 minutes.
Cooking the Asparagus:
Put the hot skillet back on the stovetop, and set to medium heat.

Add a few tablespoons of avocado oil.

Add your asparagus, making a single layer that covers the bottom of the pan.

Cook 2 minutes, flip, and cook for an additional 3 minutes.
Serving the Meal:
While the asparagus finishes, slice the ribeye, making sure to cut against the natural grain of the steak.

Arrange artfully on the plate, and add the asparagus directly from the pan.

Serve to your family, friends, or (if you're smart) just yourself.