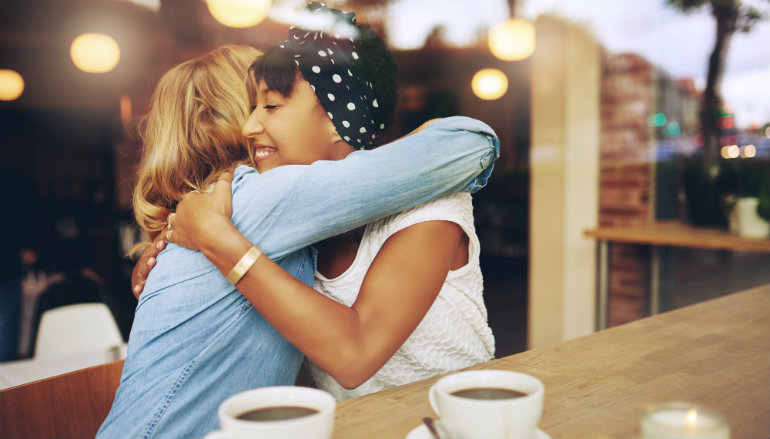 Reading Time:
2
minutes
The Off-Season WLC Skill Practices are mini-challenges intended to help you fine-tune different aspects of your health and wellness. Offered between Challenges, these weekly practices address fitness, nutrition, stress reduction, productivity, and personal connection — because health is about far more than food and the gym (and we could all use a little practice)
This Week, Take Time Each Day to Connect with a Friend
Simple Instructions:
Each day this week, reach out to a friend.
Use whatever communication method you see fit, but strive for a genuine connection.
Ideally, extend an invitation, and if you're able, meet in person — to share a meal, workout, or just be together.
Don't let "time" be an excuse. Find a moment to reach out, no matter how busy you might be.
If you happen to meet with difficulty in getting together, don't worry. Just keep calling, texting, and inviting.
Why Is This Skill Practice Important?
There might be no better way to build happiness into your life than to connect with the people you truly enjoy (for no other reason than you enjoy them).
Still, many of us treat our friendships and connections as leisure activities, to be nurtured only after the "real work" of being an adult is complete. We go to work, we go home, we answer our emails, we schedule our days and then — maybe then — we make time for our friends. In doing so, we lose out on a huge source of joy, putting personal connection at the back of the line.
Luckily, it doesn't have to be this way. With just a little bit of forethought, we can elevate the role of friendship in our lives to great effect — making both ourselves and our friends happy (and improving everyone's life along the way).
This week, you'll put friendship first, reaching out with the goal of bringing more joy to your days. Give it a shot, and see if this practice fits with your life.