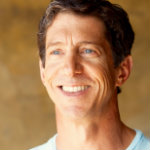 Andy is what you'd call a modern day Renaissance Man: a former professional trumpeter who attended the Eastman School of Music; a snowboarder, mountain biker, surfer, kayaker, outrigger paddler, mountaineer, and former Marine (Gulf War veteran); a professionally sponsored adventure racer; and the oldest participant to qualify for and participate in the CrossFit Games at the age of 43.

Andy is a certified CHEK Practitioner and holistic lifestyle coach. He holds a spectrum of certifications from CrossFit and is also a Vivobarefoot certified running coach. He has trained as a Zen buddhist and graduated with a Master's degree in spiritual psychology from the University of Santa Monica.

Andy founded CrossFit LA one of the first and most successful CrossFit training centers in the world and the first to be featured in national media. He is the co-founder of the Whole Life Challenge, Inc, currently its president, and is also a consultant and life/business coach. Andy lives in Los Angeles with his wife, Julia, and son, Dashel.