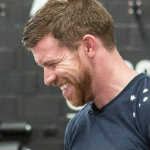 Jon Gilson is a coach and writer, and the former CEO of the Whole Life Challenge.

Previously, he founded Again Faster Equipment, a functional fitness equipment company created to serve the CrossFit community. Established in 2006, Jon took the Company global in 2012, twice landing on the Inc. 500/5000 list of America's fastest growing private companies.

From 2007 to 2013, he served as a Senior Lecturer for CrossFit, Inc., training aspiring CrossFit trainers at over 100 seminars, including engagements in Iceland, Afghanistan, Moscow, Holland, the United States, and Canada. Jon also served on the CrossFit L1 Advisory Board, helping establish policy for the organization's training efforts from 2011 to 2013.

He's also done stints in state government, gym management, and consulting — and currently teaches classes at CrossFit City Line.

Jon graduated from the University of New Hampshire in 2003, summa cum laude, with a B.A. in Psychology. He also holds a Graduate Certificate in Finance and Control from the Harvard Extension School, 2006, and has completed coursework in data analytics.